As the 2011-2012 Crew year comes to a close, we are once again presenting the TOS Homeschool Crew Blue Ribbon Awards to our vendors. The following vendors are the recipients of the award this year. Click on their name to check out the Crew reviews!
Each winning vendor has received this wonderful award to display with pride: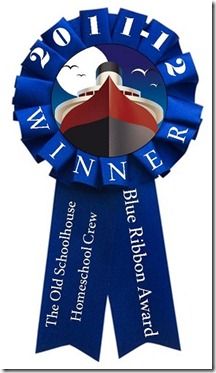 Congratulations to our winning vendors! We hope you will sail with us again!
Many Crew Members are blogging about these awards as well. Click below to see what they have to say!
Powered by Linky Tools
Click here
to see the Crew Blog Posts...