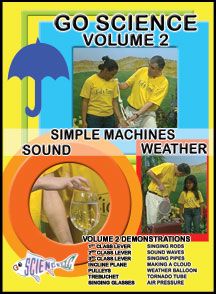 We seem to be focusing a lot on science lately. We enjoy it though, so we'll just go with the flow.
Library and Educational Services
provided us the opportunity to review a couple DVDs from their series,
Go Science
, featuring demonstrations by college professor, Ben Roy. Recommended for ages 6-14, there are currently six titles available:
Volume 1: Motion and the Laws of Gravity
Volume 2: Simple Machines, Sound, Weather
Volume 3: Magnetism, Electricity, Engineering, and Design
Volume 4: Chemistry, States of Matter, Life Sciences
Volume 5: Air, Flight
Volume 6: Water, Space, Solar System
My musings:
We chose Volumes 2 and 4 for our review. We were in the midst of our life sciences unit (and had just finished learning about simple machines and a separate unit on clouds/weather), so I felt these would be a good complement to our lessons. The DVD includes several demonstrations (volume 2 has 14 and volume 4 has 11)on the specific topics. Each one follows the same format: Mr. Roy does a short teaching segment in front of a group of kids, often using one as a helper. He ends each segment reminding them that as they learn more about science, they are learning more about our Creator. While we enjoyed watching the demonstrations, most could not be easily duplicated at home without buying specialized materials and advanced planning. That is a downside for us. Julianna likes to try the experiments at home - she's a hands-on girl. One of our favorites was the demonstration on making clouds using dry ice. I love watching how dry ice rolls over surfaces when water is added to it. (I used to work in the radiation safety department at West Virginia University in a previous life. Our office would receive all the shipments of isotopes that were ordered for the Univeristy Hospital and various research departments. Most came packed in dry ice which would then become billowing blankets of vapor pouring out of the sink after the package was picked up. Good times. Wonder where you even buy dry ice? I digress...) Overall, I would recommend the Go Science series if you want to use video demonstrations to supplement your science units. If you are looking for experiments for easy duplication, this might not be for you.
Disclaimer: As part of the TOS Homeschool Crew, I received 2 volumes of the Go Science DVD series in exchange for my honest review. No other compensation was given.