We didn't have a formal writing curriculum this year. We had a handwriting curriculum, but any writing was done on the fly. (I won't dwell on my anxieties of how "behind" other first graders that we are. That's why we homeschool, right? Right?!? Don't leave me hanging!) Anyhoo, I was hestitant when asked to review WriteShop Primary, Book B, but it turned out to be right up our alley.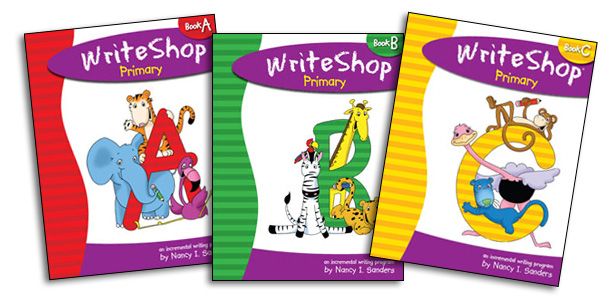 WriteShop
offers incremental writing programs for Kindergarten through 12th grade. The first products they offered were for middle/high school students, but now they have Primary (K-3) and Junior (3-5) levels. This is an overview of the Primary level from the WriteShop website:
WriteShop Primary teaches the skills of the writing process at the very simplest level through activities, crafts, and picture books. It accommodates pre-writers as well as beginning and developing writers, so your youngster needs no previous reading or writing experience. Slowly and gently, the child is asked to help with the actual writing, first in simple words and later, through copywork. And by turning these stories into a little craft, he will have a project to proudly share with others.
Several schedules help you plan according to your child's grade or skill level. Lessons are divided into eight Activity Sets to thoroughly cover a topic without hurrying the child. Examples abound to make teaching oh, so easy for you!
Each Activity Set includes Guided Writing Practice. Activity Sets 2-8 also include a key activity or project.
Activity Set 1: Guided Writing Practice only
Activity Set 2: Pre-writing Activities and Picture Book
Activity Set 3: Brainstorming
Activity Set 4: The Writing Project
Activity Set 5: Editing and Revising
Activity Set 6: Activity Set Worksheet
Activity Set 7: Publishing the Project
Activity Set 8: Want To Do More?
For our writing pace, WriteShop Primary was a good fit for us. It's lessons are laid out in three, two or one week plans depending on how quickly or slowly you want to progress through the activity. The writing activities can either be done by the student or as teacher guided writing (which is the way we went). The beginning units we completed were on writing a friendly letter (page formatting and expanding on what you want to say) and how to address an envelope. Those both came at the time we were working on her Thank You cards from her birthday, so she was able to see it used in real life. (Not saying her thank you messages were full of information, but she got the basics covered. Lol) Another activity that we did was learn about acrostics, so we did one for SUMMER. I should have taken a picture of it, but it included swimming, making cupcakes and running outside. All kinds of fun. The lifeblood of the program, in my opinion, is the Teacher's Guide. It is totally scripted (if you like that kind of stuff - it does have to be edited for your family) and has all the activities and instructions that you need to teach. Some curricula you can fudge your way through without the TG, but you cannot use this program without it! There is an activity pack for each level that is purchased separately. Here is a sample lesson from Book B: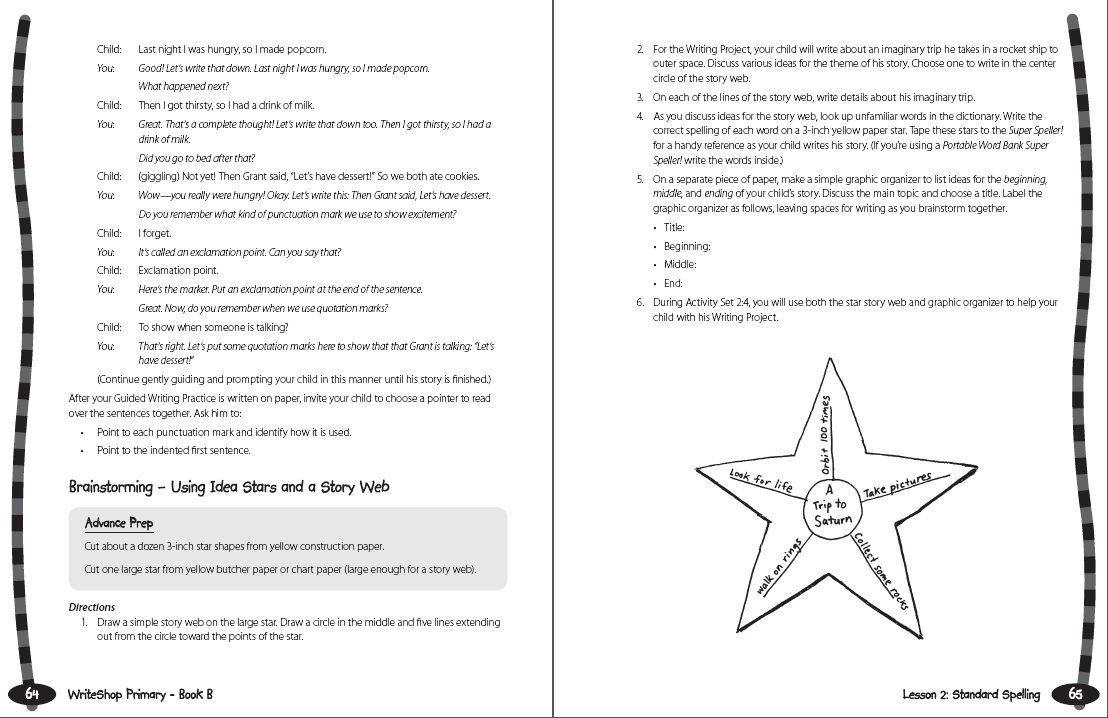 The Teacher's Guide is available in a print edition for $29.95 or as a
digital e-book pdf $26.95 and the
Activity Pack is available in a print edition for $4.95 or as a digital e-book pdf for $4.50.
WriteShop
is offering my bloggy friends (that's YOU!) a 15% discount on the
WriteShop Primary
and
Junior
products.
Enter in the coupon code:
CREW15
at checkout
.
Offer is good through June 15, 2012.
*Disclaimer: As part of the TOS Homeschool Crew, I received a set of WriteShop Primary Book B in exchange for my honest review. No other compensation was received.*