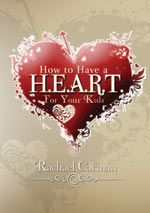 Author: Rachael Carman
Publisher: Apologia Educational Ministries
Copyright: 2011
How well do you really know your kids? What has God shown you about who they are and who they will become? He has sent these children into your home at this specific time for His glorious purposes. Indeed, you have been invited on the adventure of a lifetime, a journey on which you will see walls fall, seas parted, and giants slain. You don't need special skills or training for this journey—you need only to seek God and hold tight to His mighty hand! As with so many things, the first step to having a heart for your children is knowing your heavenly Father. As you seek daily to share His heart for your children, keep this inspirational book close at hand.
My Musings:
I loved this book.
Loved it.
Love, loved it.
"H.E.A.R.T" is an acrostic for:
H - Have A Heart for the Things of God
(This means YOU. "If you want to direct your kids on a course of seeking and desiring God above all else, if you want them to worship Him alone, if you want them to obey His call on their lives, then you must set a clear example of seeking, desiring, worshiping, and obeying Him. It starts with the parents. You cannot pass on what you do not have." Ouch.)
E - Enriching Your Marriage
(Poor hubby's always get left out, don't they? I seriously have to work on this area. I spend my day with a 6 year old chatter box and by the time Dad walks in the door, I tag him "it" and then tend to turn my ears off. I cannot even tell you the last "date night" we had. *sigh*)
A - Accept Your Kids
(They're hardwired to be what God wants them to be. Oh man. Rachael (May I call you Rachael? I will refer to her as Rachael, but not out of disrespect. I feel like we are friends...or I wish she would just call me up, so we could have a chat about things and become friends. I hate that my phone never rings. Hug, friends?). Anyhoo, Rachael talks about prayers that you commonly pray: cures for horrible diseases, future government leaders, missionaries to reach the lost and then she asks, "Are you having breakfast or teaching math to the answer of one of those prayers? Someone did." Whoa. It's so hard for me to look past the present time (and the attitudes and power struggles of the moment) into what she may become. God open my heart to accept the beauty of (warts and all) what you have given me.
R - Release Them to God
(They don't belong to you anyway. This chapter had one of my favorite quotes. Rachael would tell her kids, "You know, God loves you. He has big plans for you. Huge plans. World-changing plans. I can hardly wait to see what he has planned. I am praying for you." I love that. (I am stealing it too.) Speaking huge dreams into little minds. How far can they go just knowing that you believe they will change the world?)
T - Teach Them the Truth
(Our kids are being taught many different things from many different places. Their foundation in the Truth needs to come from us. Lead us, Jesus.)
I read a sample chapter of the book on the
Apologia
website before I actually got it and was hooked from the beginning. I identified with so much of what she was writing about (okay, I can't identify with homeschooling seven kids, but still). She had been a public school teacher. So had I. She was raising a strong willed child. Waving my hand here. She dreamed of the time her first born would head off to Kindergarten and she'd "get her life back". Me too. I always assumed that I would be home with Julianna until she was school age and then I'd go back to teaching. I miss being a Special Education teacher. I miss my co-workers. I miss contributing financially to our household. I still question our decision to homeschool weekly - sometimes daily depending on how things are going. I told a friend recently that we are starting our new school year on the 22nd, so that if I am ready to wave the white flag by Friday, she can start public school with the rest of the kids on the 29th and not be behind. Only somewhat kidding. Shame on me. This is one of the reasons that this book was a Godsend for me. It is helping me refocus what is important in my family...our homeschool... and as a parent. I read the majority of the book through teary eyes...tears of conviction and inspiration. I would wholeheartedly recommend this book to every homeschooling Momma. It was a great encouragement for me.
Disclaimer: As a member of TOS Homeschool Crew, I was given a free copy of the book How to Have a H.E.A.R.T. For Your Kids in exchange for my honest review. No other compensation was received.