Since we've gotten our dog, I've spent quite a lot of time in our backyard during his potty training. I don't think I really paid much attention to what birds were singing before then. After my many (many, many) trips outside, I can now pick out the songs of Cardinals, Robins, Crows and Blackbirds (Which, by the way, has one of the strangest calls out there.)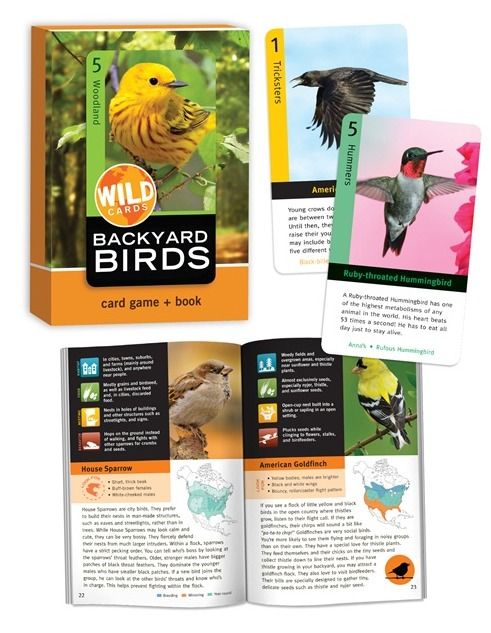 Dr. Wenda O'Reilly
starting making games using art, combined with familiar card games, for her children when they were little. The company began publishing these games in 2000 and now they offer the products which still include art, but also have expanded to history, wildlife and nature, and air and space. The Birdcage Press team consists of five women who all use their unique skills to help create their educational products, which include
games
and
books
.
The
Wild Card: Backyard Birds
set includes 36 cards printed on a glossy cardstock and a fact book. Each card has a full color picture and fun fact about the bird it represents. Each bird in the set is divided into one of six categories: Tricksters, Songbirds, Woodpeckers, Hummers, Waterbirds and Little Chirpers. This distinction is color coordinated on both the cards and throughout the fact book. The fact book includes information about habitat, food, nesting and behavior. It also gives a map of where the birds are located in North America and clues to look for to identify the birds.
We loved this game! We have played it over and over... and over and over again. Primarily, we played it as Memory and "Go Fish" (or "Go Bird" as Julianna re-named it). The only thing negative I can say is about the size of the cards. Since they are a little larger than a standard deck of cards (and they are very slick), they are kind of difficult to shuffle. Julianna couldn't do it at all.
I was highly impressed with the quality of this card game. I have no reservations recommending it to you, friends, and would not hesitate purchasing more of their products in the future. Speaking of which, you can buy their books and games on the
Birdcage Press
website. They are also sold at museums throughout the world, as well as, select book, gift and toy stores.