Hello again, Reading. You have become my arch nemesis in this homeschooling journey. You are the Captain Hook to my Peter Pan. The salad to my pumpkin pie. The Lex Luthor to my Superman. But, alas, I shall prevail.
Teaching Julianna to read has been the most difficult part of homeschooling to date. (I know the difficulties will change as we continue on, but it's currently one of those "trees for the forest" situations.) It's very difficult to watch your child struggle and fall behind peers in an area that is completely essential. It's a hopeless feeling and it seems never ending. So, since reading is a trouble area for us, I take any help I can get. Julianna does well with online activities, so I was hoping that
Reading Kingdom
would be a good fit for us. So far, so good.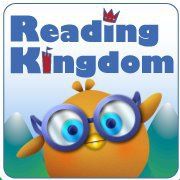 Current reading programs are generally taught based on three approaches: phonics (sounding words out), whole language (memorizing whole words) or a combination of both.
Reading Kingdom
, created by Columbia University's
Dr. Marion Blank
, differs from other programs because it teaches kiddos 4-10 years old, reading and writing by focusing on six skills: sequencing (letter order), motor skills (keyboarding), sounds (phonology), meaning (semantics), grammar (syntax) and comprehension (text).

After taking the Skills Assessment (which the program instructs must be done without direct help), the program will then be "kid customized", so the lessons are meaningful and appropriate, not repetitive (which Julianna gets frustrated with...especially if she's balking at the subject anyway.)
My musings:
So far, I really like this program. The initial assessment lessons were a bit longer (maybe 15 minutes or so) and she would complain about having to complete them, but our saving grace was the progress meter (it gave the percentage complete of the skills assessment and the program as a whole). Being able to see that she was 75% done with the assessment part one day and now 98% done, etc. was a BIG motivator. Since she has completed the assessments and now is into the actual reading lessons, things are going swimmingly. She has been completing the lessons much quicker, so there hasn't been a fight when it's time to get them done. The games and activities have had enough variety, so she's not getting bored with them. We are using this as a supplement to our other Language Arts, but it could easily be used as a stand alone curriculum.

Parents can check the progress of their child at any time online and are also kept in the loop through emails when certain criteria (completing levels, etc.) are met.

If you have a youngster that is in the process of learning to read, give
Reading Kingdom
a looksie.
They offer a
30 day free trial
and then memberships are $19.99 per month or $199.99 per year. Additional children receive a 50% discount.


*Disclaimer: As a member of the TOS Homeschool Crew, I received a subscription for Reading Kingdom in exchange for my honest opinion. No other compensation was given.*