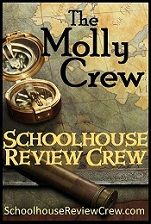 Julianna has been begging me to set up a chore chart for her for quite a while. Yes, I know that sounds very noble of her, but she does have ulterior motives (read: she wants things.) Nevertheless, I have never been able to come up with a successful (or consistent) chore chart, so when I was given the chance to review
The Everyday Family Chore System
by Everyday Homemaking, I jumped at it.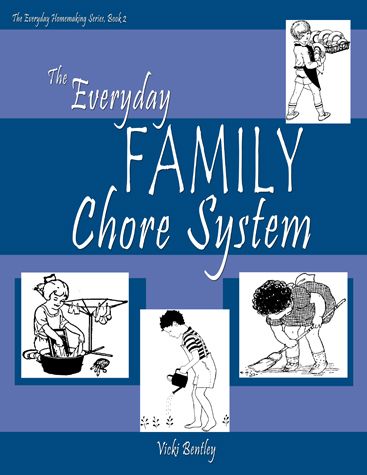 The chore system was created by Vicki Bentley "
to encourage you and provide some tools to help you to mentor your children in what it means to be a responsible, caring, sharing part of your family. That will include some training in appropriate attitudes and character, as well as the physical teaching of how to accomplish a task."
The book is split into three parts:
Part 1: Laying the Foundation
(training your children to become responsible, serving members of the family and in living skills)
The foundation of this system is based on the following four principles:
Having realistic and age-appropriate expectations (For example, in the 5-12 age range we are creating a chart for we'll focus on training on being consistent, respectful, thinking of others first, being diligent, being thorough and cheerfully obeying)
Establishing rules and standards (Kids must know what is expected of them and parents need to change their automatic "no" (which I am very proficient in) to a "yes" and let the responsibility of the actions fall onto the child. An example was given of instead of saying, "No, you may not have dessert because you didn't eat your supper." You change it to, "Yes, you may have dessert if you finish your healthy food." I am allllllll about personal responsibility (Do not get me on my soap box about how that is a key component that is lacking in today's world!), so I'm definitely implementing this strategy, um, today!)
Having a working knowledge of family discipline (Do not correct in anger, but rather train in love teaching both repentance and restoration.)
Tie strings to their hearts (Connect with your kids through time, love and their interests in turn showing them they are an important part of the family.)
Part 2: Implementing the Plan
(assignment of age appropriate chores and designing the system you will use)
This is the part of the system that I think is most helpful. It gives a list of age appropriate chores from age 2 - 13+. That has probably been the hardest part of putting a chore chart together - what should the chores be? It gives a lot of ideas deciding how often the chores need to be completed (Is it daily? Weekly?) and how to create the system. Her original chart used clothes pins that had the chore written on them attached to a piece of cardstock. Her daughter's names were written down the middle and the chore pins were split into weekly and daily chores on either side of the card. Index-like cards that give specific instructions for the chores (called how-to-do-it cards) are also in a pocket on the board. Since we are starting small, I used a foam door hanger, wrote Julianna's name at the top and split the bottom into two sides: To do and Done. I am using the idea of the clothes pins, but she will need to move the chore pin from the "to do" side to the "done" side as they are completed. After we get this established, we may need to move onto a more elaborate board. My main reason for going small at first is we (meaning ME) need to get it established and we (again MOI) need to be consistent in following through to completion.
Part 3: The Chore System
(all of the premade labels and how-to-do-it cards ready to print and use)
Pre-made chore labels (also blank ones) and all of the instruction cards are already available for you to print and use! Timesaver.
I am excited to try our chore system out. I will update periodically about what works and didn't and what changes needed to be made.
The Everyday Family Chore System
is available in print form (spiral bound) for $19.99 and as an ebook download for $14.99. You can order on the
Everyday Homemaking
website or through their
Amazon store
.
*Disclaimer: As a member of the TOS Molly Crew Review, I was given an ebook download of the book The Everyday Family Chore System to feature on my blog in exchange for my honest review. No other compensation was received.