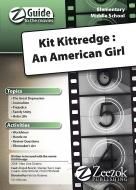 What is a Z-Guide? From the
Zeezok
website:
If your student enjoys watching movies, we just made it easy for you to incorporate them into your curriculum. We have dozens of guides— each of them falling within a specific time in history. All of the guides contain ten educational activities that build upon the movie. The guides are movie specific. We tell you exactly which movie we used, and almost all are available thru Netflix. Most you can probably get through your local library. So you don't even need to buy the movie to use our guides!
The guides are designed to be used as a supplement to you history curriculum. Each one is laid out as follows:
Topic overview (period of history and a summary of the movie)
Activities (review questions, research topics, hands-on activities, worldview activities, etc.)
Family Discussions questions
Answer keys
My musings:
Kit's movie is a favorite in our house and being able to add the movie guide to it was fun. The guide is listed at an Elementary level, but I would say it is upper Elementary, at least 3rd grade and above. Since Julianna is only in 1st grade, I had to adapt the activities that we did. For example, the directions for the first activity, answer review questions, asks the student to fill them out while they are watching the movie. As a beginning reader/writer, I asked her the questions after the movie was over (and she got them almost all correct.) We did discuss some of what The Great Depression was, but we're not at the point of doing research yet. The hands on activity suggested doing a Powerpoint presentation of Great Depression fashions. Instead, I had her draw what a dress she made out of a chicken feed sack would look like (In the movie, out of necessity, Kit and some friends have to have dresses made out of chicken feed sacks. Julianna's dress was a fashionable shade of green.) I can definitely see us using this again in the future when we study The Great Depression era in greater detail. One of the greatest features? Zero teacher prep! Got to love that.
Julianna's musings:
"I love Kit's movie. I liked answering the questions. Kit is the next doll I want to get."
If you want to incorporate a movie into your history curriculum, check out Zeezok to see if they have a guide available. They have Elementary thru High School
guides
for a wide range of historical periods. They are affordable too, $12.99.
*Disclaimer: As a member of TOS Homeschool Crew I received a copy of Z-Guide to the Movies: Kit Kittredge: An American Girl in exchange for my honest review. No other compensation was given.*