I'm not sure if it is common place in this day and time or it's only common place in my household, but kids are clearly lacking in the area of character development. Are poor character traits a learned behavior? Are they innate? Is it just the status quo for our world today? Regardless of the origin, I'll take any guidance in instilling good morals into Julianna. One of our helps is coming from We Choose Virtues.

From their website:

We Choose Virtues (created by Heather McMillan) is not unit study that you use once and then move on from. It is actually a character development tool that you use every day, every year. You introduce the Virtues, then demonstrate them, memorize the catchphrases, then learn the antonyms, then capture teachable moments when they are being used…or aren't.
The 12 Virtues in the Early Childhood/Elementary set are: I am Diligent, I am Kind, I am Honest, I am Obedient, I am Forgiving, I am Perseverant, I am Gentle, I am Obedient, I am Self-Controlled, I am Content, I am Honest and I am Attentive. (Actually, us adults can benefit from these Virtues too, huh?)
There are six different character kits that are available: Family (ages 3-18), Homeschool (ages 3-18), Faith-Based School (ages 3-11), Kid's Church/Sunday School (ages 3-11), Community Schools (ages 3-11) and Mentoring (ages 12-18). You can also purchase items (posters, coloring book, Teacher's Handbook, etc.) individually.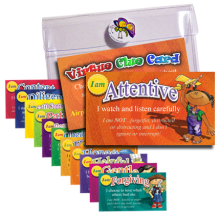 We were given a set of the new Virtue Clues cards, as well as, the Teacher's Handbook and coloring book (both downloadable PDFs) as part of our review package. Each character trait you teach has a "Virtue Kid" that goes along with it. For example, when teaching "Forgiving", you have Feather Heather (her picture is on front of the Teacher's Handbook) to use as a visual reminder.
The characters are so cute!
I am totally in love with the graphics that are used. The website also has several free downloadables you can use to supplement the program, including memory verses and Bible heroes and individual and family assessment forms.The clue cards are basically reminder cards of what the virtue is, what it is not and challenges the child to demonstrate the virtue throughout the day. I will admit, I was a little lost as to how to implement the cards into our day, even using the Teacher's Handbook. What I ended up doing was, Julianna would choose a card at the start of our day, we would read it, (talk about how cute the character was...well, I would), review the Bible hero story and memory verse that went along with it (from the free download sheet) and then discussed examples of ways we could implement it throughout our day. I was going to hang it up as a reminder, but wasn't consistent with that part. My bad. Unfortunately, Julianna isn't a big coloring page type of girl (even though they turn out lovely when she does them), so we didn't end up doing many. After seeing the materials they have on their site, I think I might invest in the Parent or Teacher Virtue Cards to use in our home. I love the activity ideas on the teacher cards, but will probably buy the parent cards because, even though they have less information/ideas to use, they are much cheaper...keeping it real. :-)

Julianna's musings:
"I have a hard time remembering to do the stuff on the cards. The pictures are sorta cute."

Check out the We Choose Virtues line of products if you are interested in implementing character development activities in your homeschool (or you just want to look at the cute characters.)
**Disclaimer: As part of the TOS Homeschool Crew, I was given a set of the We Choose Virtue Clue Cards, Teacher Handbook and coloring book in exchange for my honest review. No other compensation was received.**