My girl loves to play games online, so what could be better than a site with safe, educational games created JUST FOR GIRLS? Not much. (Well, not much to a little girl. For this big girl, a fresh cup of coffee first thing in the morning beats it by a mile, which is probably why it's not targeted for the 40 something crowd.) I digress.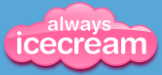 Always IceCream
is a pretty (all fluffy and pastel-y ice cream colored), fun site chock full of a variety of girly games. Their tag line is "A Scoop of Laughter. A Scoop of Learning." The target age for the majority of the games is 7-12 years. They have a large selection of educational games (that progress in difficulty) in the following academic areas: Language Arts, Math, Science, Geography and History, Music and Arts, Religious Education (Christian), Computer Skills and Foreign Language. They are very proactive with their safety measures, offering, among other features, moderated communication between friends (there is a social connection side where your daughter can link to other friends online), and tons of parental reporting and control. A couple other features are MiniWorld (when they first sign on, they create a MiniMe avatar. MiniWorld is where they set up a house, art studio, etc.) and Pet World (hatch and raise a pet).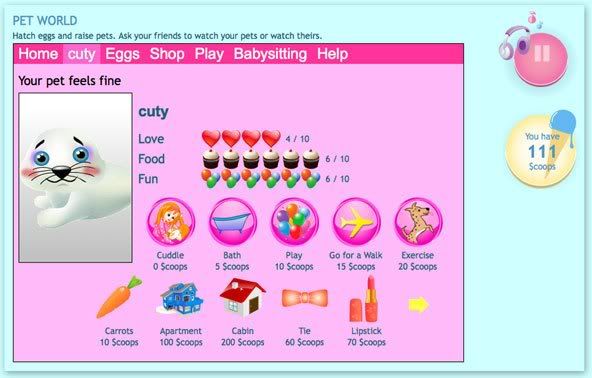 My musings: Julianna and I have both really enjoy this site. She is younger than the recommended age, so many (okay, most) of the games we need to play together. (I won't say how woefully pitiful one of us is at identifying the states west of the Mississippi...barring Texas and California. The ones in the middle all run together. :-) ) There are some games (dress up, cake decorating, etc.) that can be done independently, but she is still an early reader and needs help for everything else. That's okay. I like having something available that she can grow into. My favorite thing? NO ADS! Ugh, ads on kid's sites drive me bananas. There is a very popular preschool site that used to really annoy me with their ads. I'm sorry, but my preschool daughter does not need to know about adult hair coloring products! Nuff' said. I also love the extra measures implemented for safety and parental controls. I expect us to get loads of use out of our membership over the upcoming years.
Nitty gritty details:
Always IceCream
Target audience: girls, 7-12 years
Membership: 4.99 per month (first month .99)
29.99 annual
99.99 lifetime
(Always IceCream offers a money back guarantee if you aren't satisfied.)
**Disclaimer: As a member of TOS Homeschool Crew, I was given a free membership to Always IceCream in exchange for my honest review. No other compensation was received.**