This is my last review of the year...I think, I better check. Whew! Yes, last one. :-) A new set of reviews will begin after the new year. We get to take a break over the Holidays. Yippee!
Julianna is very musical. As I type this, she is practicing her piano, albeit reluctantly. Her father and I neither one are musically inclined. (Well, we're not musical instrument inclined. Her dad was a voice major in college for a little while.) Not completely sure where her musical instrument gene came from, but there it is. She also likes to sing, so I thought it would be a good opportunity for her to learn some proper techniques to use. Enter
Teaching Kids To Sing
by Chris and Caroll Beatty.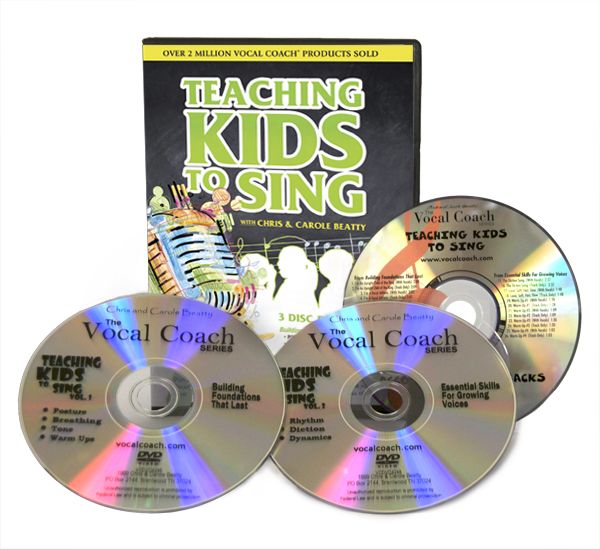 This DVD set is part of a series of singing products from
Vocal Coach
. The Beatty's have been teaching people to sing for over 40 years.
Volume 1: Building Foundations That Last (Posture, Tone, Breathing, Warm Ups)
Volume 2: Essential Skills For Growing Voices (Rhythm, Diction, Dynamics, Vocal Health)
Volume 3: Accompaniment Tracks CD (26 accompaniment tracks with and without background vocals)
My Musings:
I thought the DVDs were really informational. I learned quite a bit, actually! The lessons weren't too long and they kept Julianna's attention because kids were used. One lesson was teaching about good breathing and used blowing a balloon up as a demonstration. It really showed how constricted your airway is if you aren't using good posture. The balloon was much more difficult to blow up when you are hunched over rather than standing straight. I mentioned before that Julianna is taking piano lessons. She's doing great with them except she tries to play everything as fast as she possibly can. Drives me crazy! I am hoping what she learned in the rhythm and tempo section will generalize into her piano lessons, as well.
If you have musically inclined kids between the ages of 5-13, check out
Teaching Kids To Sing
(it is listed at $44.95). If your kids are older (or you, as a choir member want to learn some good techniques) look at the
Vocal Coach
website at the products they offer. They also have a section on how to use them in your
homeschool
.
You can see what the other members of the Crew thought about the Vocal Coach products:

*Disclaimer - As a member of the TOS Homeschool Crew, I received a the Teaching Kids To Sing DVD set in exchange for my honest review. No other compensation was given. *