This review is a little different from all my other reviews...this product is not a educational resource and it was all for ME, ME, ME! (Well, not entirely, Julianna used it as well.)
Recently we had the opportunity to try a variety of skin care items from
Beeyoutiful
, a company offering products made in the USA of pure, natural ingredients. From their website:
B

eeyoutiful skin products contain NO Parabens, Formaldehyde, Petroleum derived ingredients or SLS Detergents. They are all manufactured in the USA using pure, all natural ingredients. No testing done on animals. All testing personally done by Beeyoutiful Staff and family.

As we are s-l-o-w-l-y adjusting our mindset towards a more natural-ish lifestyle, our focus has been more on food than other products. (We are now part owners in our local natural market...we figured, we spend enough money there, we might as well join in with them.) Burt's Bees has been the closest I've gotten to natural health and beauty products...and they may not even be, I haven't even checked! (It will never be a complete transformation I'm afraid. I am hopelessly devoted to Purell. True story.)
Beeyoutiful
was kind enough to send us four products to try out in a skin care package: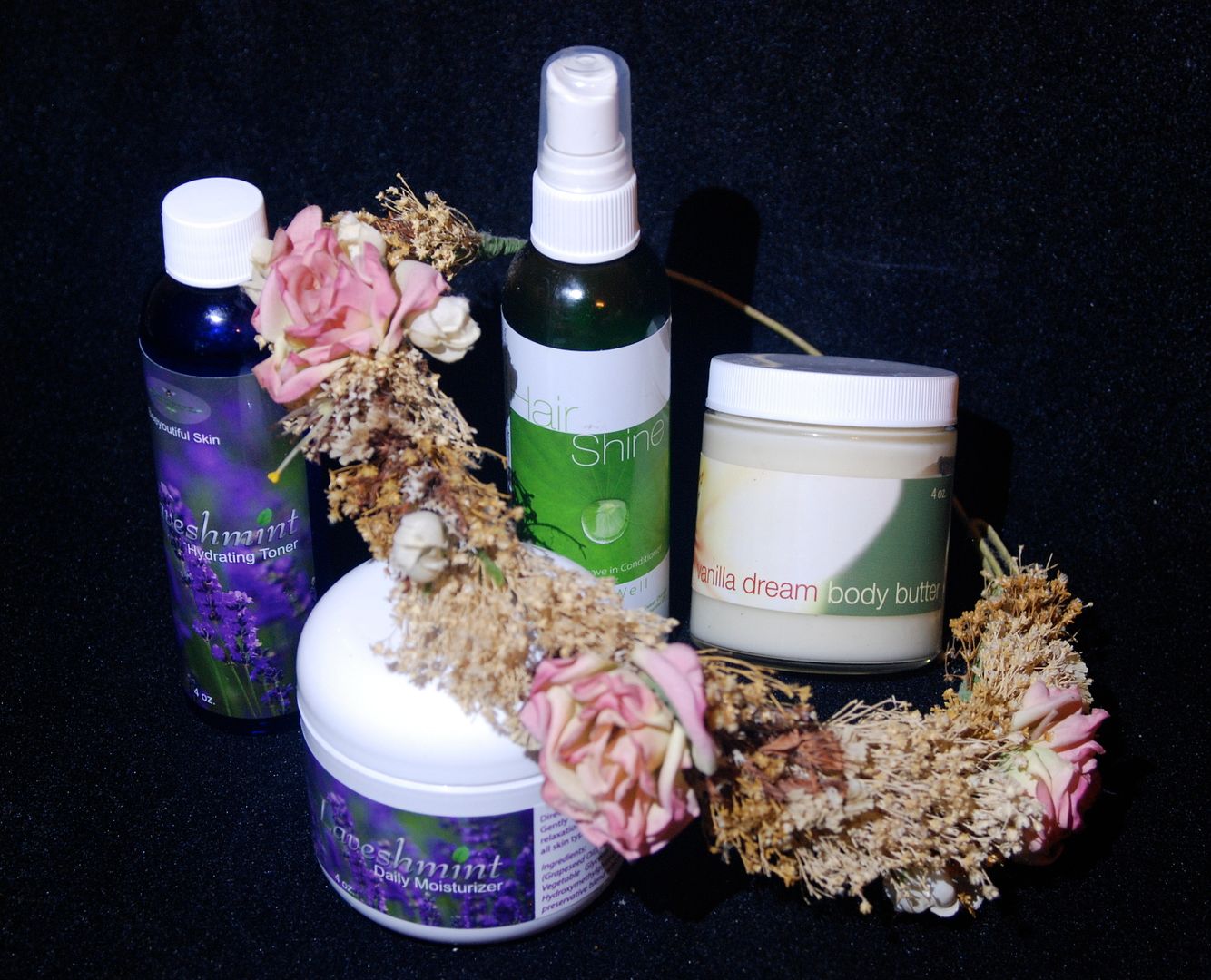 My musings:
I enjoyed trying all the products sent by
Beeyoutiful
. Here is my overview of each item:
Hair Shine Spray-In Conditioner
- I used this on both mine and Julianna's hair. I loved the light feel and citrus-y scent of this conditioner. It is listed as a detangler, as well. I'm not completely convinced that ANY detangler on the market works well on our fine hair, so using that criteria, I'd say it performs as well as others. The website also says that it can be used as a cooling spray for sunburns and insect bites. Good to know for next summer...or if I jump a plane and head somewhere tropical before then. My rating: thumbs up.
Laveshmint Daily Moisturizer
and
Laveshmint Hydrating Toner
- I love the scent of this moisturizer and the toner spray. It's a light, lavender/peppermint blend. It is recommended for all skin types. I tend to have oily skin, so I'm not one to use any type of moisturizer. I didn't really like the feel of this on my face (even though the cooling from the peppermint was nice), but I did start using it on my hands since I'm quite harsh on them, washing them all the time. I did love the toner spray, though. I use it in the morning and night after washing my face. My rating: thumbs up.
Vanilla Dream Body Butter
- I have a love/hate relationship with body butters (and sugar scrubs, too). I love how soft my skin feels after I use them, but I hate the greasiness on my hands to get to the softness. Oh, the difficulties we must overcome in life. This body butter has a nice, light vanilla scent...it's not too strong like most vanilla items, which usually make me queasy. My rating: neutral. It has nothing to do with the product itself, though and everything to do with my greasy hands issues.
If you are interested in natural products for yourself and your family, please check out
Beeyoutiful
. They have a great selection of a variety of things. You'll be glad you did.
You can see what my other Crew Members thought by clicking the banner below.

* Disclaimer: As a member of the TOS Homeschool Crew, I received the Beeyoutiful skin care package in exchange for my honest review. No other compensation was given. *