Julianna is a budding songstress. Neither her father nor I are musically inclined, so I'm not sure where her love for creating songs came from. Recently she got to sing one during the children's church portion of a service. (I'll have to post about that. The world needs to sing "Go, go, go, hallelujah and praise your name!" along with the rest of us.) We got her a keyboard for her birthday a couple years ago and have been debating signing her up for piano lessons, so I was excited to review KinderBach.

KinderBach is a preschool piano curriculum (geared for ages 2-7) that can be used both at home or in a traditional classroom setting. They use games, songs, fun characters for music instruction. There is also a printable workbook to correspond to the six levels of instruction.
KinderBach breaks down the various tasks and techniques of playing the keyboard and separates them into child portions. For example: Before playing a song, rhythm, note identification, note placement, and music patterns are presented as different items through discussion and games. Learning is gradual and child-paced. In addition KinderBach uses fun characters to teach ideas, making the process entertaining.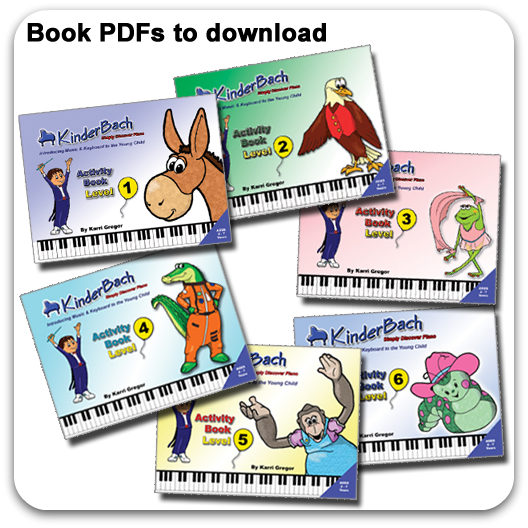 My musings:
I really liked this program. The video lessons are short and active with songs or fun characters. It moves at a nice pace and covers a lot. The printable pdfs are a definite thumbs up! Julianna was rather ambivilant to the whole process which is one reason we haven't finished yet. She tends to march to her own tune, so she's not crazy about sitting down to follow others instructions when she just wants to play independently. She hasn't quite grasped the concept that you actually have to follow certain rules to make music sound like, well, music. I'm going to keep going with it through our trial and see if we can complete it (especially now that they offer it for the iPad!) That may determine if we look into formal lessons or not.
Check
KinderBach
out if you have youngsters and you are interested in a piano curriculum. They offer a free online trial. The program is available by online streaming, DVD and now the iPad. The membership is less than $100 per year, $19.99 monthly or a one day pass for $5.95. As a special bonus, the nice folks at KinderBach are offering you, my dear friends, a discount. This coupon code gives 30% off any order - homeschool, classroom, online or DVDs. AND it is good through February 2, 2013!
Coupon Code: TOScrew2012
*Disclaimer: As a member of the TOS Homeschool Crew I was given a free trial membership to KinderBach in exchange for my honest review. No other compensation was received.**